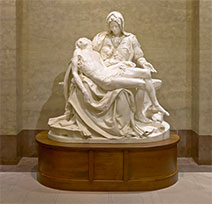 Our mission is to facilitate the placement of these sublime sculptures in settings where they can touch the lives and hearts of the faithful.
Arte Divine is a worldwide distributor for the reproduction of Michelangelo's Pietà. Created in cast marble from a mold derived from the original Pietà, the result is a precise reproduction that is faithful to the original Pietà.
Of all his sculptures, the Pietà is the only sculpture Michelangelo ever signed. He considered it to be the consummate expression of both his personal talent and the Divine inspiration that he believed to be the guiding hand behind his work.
Only a small percentage of the faithful will ever have the opportunity to view the Pietà in Saint Peter's Basilica in Vatican City. Arte Divine works closely with churches, schools, hospitals and the philanthropic community, to bring this profound experience to many more.
Here is an article from the former associate curator of Renaissance and Modern Art for the Metropolitan Museum on why Michelangelos Sculptures should be reproduced.
__________________
Click Here for the Article